ECS - Your specialist for off-grid power supplies and renewable energies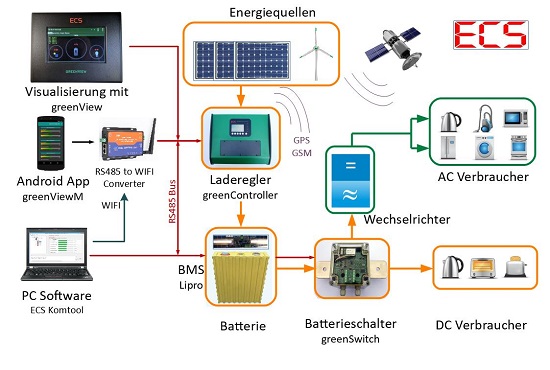 Product selection and sample application - Ask us for a solution for your application, we will be pleased to advise you!
---

NEWS:
12/15/2020

Christmas Holiday Closure

Please note that our office will be closing for the Christmas Holidays
from December 24th, 2020 - January 1st, 2021
The Management & Staff of ECS take this oppurtunity to express a Marry Christmas and a healthy & prosperous 2021 to our customers and partners.


06/18/2020
New greenView Firmware

available!

Now it is possible to exclude some BMS/Cells from system voltage calculations. Excluded BMS/Cells are shown a bit shaded. With this feature you can mount more then one LiPro on one cell, (or put on every in parallel connected cell a LiPro to achive higher balancing currents)
03/25/2020
Corona Update: Our Shop is open, all article are available
New greenView accessories: Liquid Level Sensor
03/04/2020
New DIY LiFeYPO4 (Winston Battery) Kits are available
Updated wiring diagramms for the DIY Kits
02/17/2020
New greenView firmware is available! We now also support 50A current sensors and liquid level sensors at the analog inputs. In addition, devices can now be customized with a name of your choice.
Special offer from 40Ah Winston cells
01/29/2019
We are pleased to introduce our new partners to you: EYS for installations in boats and yachts. Stromvoll GmbH for ready-made batteries and customer-specific installations
05/03/2019
New wifi converter are

available

DIY - sets are

available

Our New android app is

available
03/14/2019
New greenView firmware is available
New windows software for remote connection to greenView
08/31/2018
New greenController 100/30 and greenController 75/40 firmware

available
08/302018
New greenController 140/30 Firmware available
08/252018
New greenView Firmware

available
02/02/2018
07/31/2017
New firmware for greenController is available
New commtool available (Support for greenSwitch has been implemented, it is now possible to save device parameters to files, and many minor improvements and troubleshooting have been implemented)
We have stocked up our stock around many cells of the company Winston. These will be entered into the shop within the next days
Event reminder free practice seminar on 09.09.2017, vacant places are still available!
01/26/2017