ECS - Your specialist for off-grid power supplies and renewable energies
Development project started, funded by the European Union and the Fund for Regional Development.
More information at
Extrem leistungsstarke Lithium Batterie mit einem integrierten neuartigem BMS.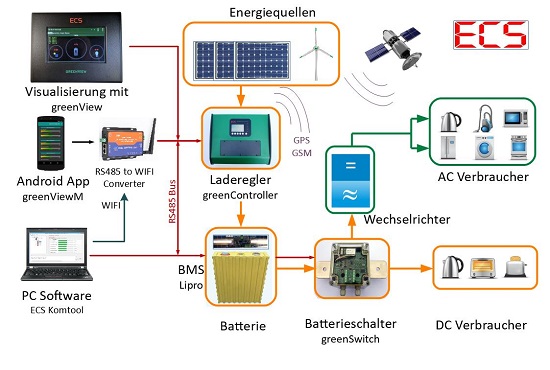 Product selection and sample application - Ask us for a solution for your application, we will be pleased to advise you!
---

NEWS:
11/24/2021
ECS Winston mounting kit. now also available with openings for cable ducts!
11/11/2021
New cell connectors for EVE, Lishen and Calb cells. Flexible and high currents (crosssection 60 mm2 and 120 mm²)
08/06/2021Development project started:
Extremely powerful lithium battery with an integrated new type of BMS.08/05/2020
In the last few months we have been hardworking and have added many new products to our range
Automotive fuses with a very high breaking capacity in the event of a short circuit (10 - 50 kA). These fuses have been specially developed for use with lithium batteries.
Product range at NH fuses expanded. There are various new types and a new addition to the range: fuse switch disconnectors. So fuse holder with integrated main switch function.
New in the program, power rails in various designs.
Powerful cell heaters and isolation plates for LFP cells.
Flexible cell connectors for LFP cells from CATL / LISHEN / EVE
02/22/2020
Finally the time has come! Our high-precision battery monitor, named greenMeter, is now available in our shop. After more than two years of development, we are proud to have achieved a measurement error of less than 0.04% FS. With this you get the most accurate battery monitor from us. We offer this sensor in three different current measuring ranges, so scaling to your area of application is guaranteed.
Our greenViewM Android app has been heavily revised and improved for you.
Our new ECS Kommtool software now also supports multiple battery systems. For example, it is possible to display both the battery system for the main power supply and the battery systems for the drive motors (e.g. for boats) in one clear program.
12/15/2020

Christmas Holiday Closure

Please note that our office will be closing for the Christmas Holidays
from December 24th, 2020 - January 1st, 2021
The Management & Staff of ECS take this oppurtunity to express a Marry Christmas and a healthy & prosperous 2021 to our customers and partners.


06/18/2020
New greenView Firmware

available!

Now it is possible to exclude some BMS/Cells from system voltage calculations. Excluded BMS/Cells are shown a bit shaded. With this feature you can mount more then one LiPro on one cell, (or put on every in parallel connected cell a LiPro to achive higher balancing currents)
03/25/2020
Corona Update: Our Shop is open, all article are available
New greenView accessories: Liquid Level Sensor
03/04/2020
New DIY LiFeYPO4 (Winston Battery) Kits are available
Updated wiring diagramms for the DIY Kits
02/17/2020
New greenView firmware is available! We now also support 50A current sensors and liquid level sensors at the analog inputs. In addition, devices can now be customized with a name of your choice.
Special offer from 40Ah Winston cells
01/29/2019
We are pleased to introduce our new partners to you: EYS for installations in boats and yachts. Stromvoll GmbH for ready-made batteries and customer-specific installations
05/03/2019
New wifi converter are

available

DIY - sets are

available

Our New android app is

available
03/14/2019
New greenView firmware is available
New windows software for remote connection to greenView
08/31/2018
New greenController 100/30 and greenController 75/40 firmware

available
08/302018
New greenController 140/30 Firmware available
08/252018
New greenView Firmware

available
02/02/2018
07/31/2017
New firmware for greenController is available
New commtool available (Support for greenSwitch has been implemented, it is now possible to save device parameters to files, and many minor improvements and troubleshooting have been implemented)
We have stocked up our stock around many cells of the company Winston. These will be entered into the shop within the next days
Event reminder free practice seminar on 09.09.2017, vacant places are still available!
01/26/2017
Specially developed for our customers in the field of boats / caravans. GreenSwitch considerably simplifies the conversion of existing lead to lithium technology.